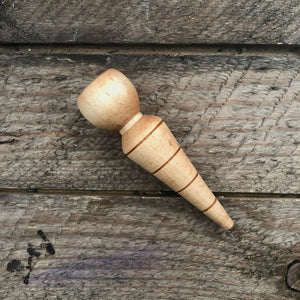 Each Custom Dibbler is Handmade (May look slightly different)
Handmade in the US of American Maple, this beauty will last generations if maintained.   The garden dibble or dibber is the simplest, but most useful tool in a gardener's shed during planting season.  Made of select hardwood, this  dibber is hand-turned in our shop, and made to order.  Our dibbles are finished in linseed oil to preserve the natural beauty of the wood, and protect it from the elements and can be used for vegetable or flower bulb and seed planting.  It is marked in 1" increments, this tool is easy to use with a ball shaped handle.
Wrapped in our Celtic style with burlap and baker's twine, and ready as a gift or for you!
Note: During high season there may be a production time set as these are hand made and turned in our farm shop here in the US.