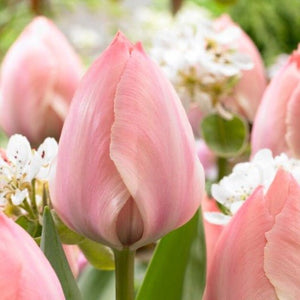 Large, beautiful Pink dutch tulip bulbs for sale.
The Flower Farmer's Choice.  Variety "Salmon Van Eyk". Bag of 20 Bulbs.
As a flower farm, the quality of our flowers is paramount, and we get our large quality tulips from a Dutch importer.  These are large tulip bulbs, that provide beautiful flowers and strong foliage for growth, for follow on seasons.  We sell them in bags of 20, and you won't be disappointed.

Darwin Hybrid's are the best and most popular class for landscape use
Produce giant, egg shaped blooms (up to 6" wide) on strong stems 
The premier landscape tulip for the South
Most tulips you see in parks and public spaces are Darwin Hybrid's
 Tallest class of tulip (22-24 inches Tall).
Darwin Hybrid tulips are a cross between Single Late and Emperor tulips
Can withstand even the windiest, rainiest, Spring weather
Their blooms are heat tolerant and grow well in partial shade as well as full sun
Blooms in Mid - Late Spring
More Info

Height - 22-24 inches
Spread - 4 - 6 inches
Spacing - 4 - 6 inches
Hardiness Zone - 3 - 8 
Color - Soft Pink
Planting Info
All  Spring flowering bulbs must be planted in the Fall
Soil temperatures must be 55 F or below to ensure proper root development
The optimal planting time is when night-time temperatures are 40-50 F
The ideal soil pH level for bulbs is between 6 and 7
Most bulbs require a minimum cold frame of 6 weeks to root properly
Tulips in particular need 12 to 16 weeks in the dark with a sustained soil temperature below 50° F